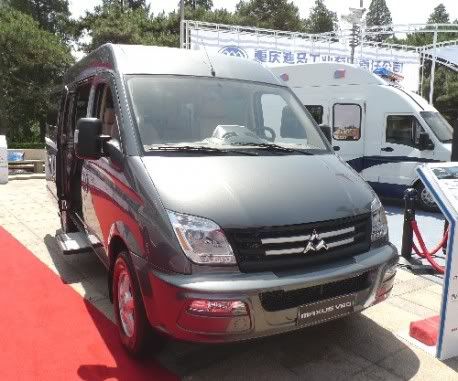 Iveco and Ford Transit must be alert to their new competitor. On Feb. 28, Shanghai Automotive Industry Corp. launched a new brand Maxus (Datong in Chinese) for light commercial vehicles.
Like Transit, Maxus was a series of vans, minibuses and chassis produced by a British van maker LDV, which was bought by SAIC in 2010. Maxus is a synonym for LDV, because it has been a sole product of LDV Group since 2006.
SAIC introduced the brand Maxus, rather than the unreadable and seemingly unauthorized original brand LDV. Maxus's tri-arrow logo is claimed to represent technology, reliability and gumption, but obviously, it is a variation of another SAIC commercial vehicle brand Huizhong's logo. Its Chinese name Datong, meaning great transportation, is a vulgar word. In China, most buyers of light commercial vehicles are not well-educated. This popular name may be more attractive for them than some other SAIC's car name, such as Lingyu (VW Passat) and Junyue (Buick LaCrosse). But this name is also destined to be a lower level vehicle, not a competitor of Mercedes Viano/Vito or Sprinter.
The Chinese version of Maxus will be launched and hit the market later this year.
SAIC is a leader in Chinese passenger car market. Shanghai VW and Shanghai GM are the top2 Chinese JVs in 2010, both with more than 1 million respective sales. Moreover, its local brand Roewe and MG are growing rapidly and healthily.
However, commercial vehicle is a short-board of SAIC. Excluding Maxus, SAIC has already got four commercial vehicle brands, but only one of them gained a leading position. Naveco is a JV between Iveco and former Nanjing Automotive (bought by SAIC in Dec 2007). The vans and minibuses based on Iveco Daily are the absolute leader in its segment. Sunwin is another JV between Volvo Group and SAIC to produce city buses, but the products are not very welcomed outside Shanghai. Huizhong branches into various area including vans, large-sized bus and heavy-duty trucks, but its tri-arrow logo is rare to see even in Shanghai. Last, SAIC Iveco Hongyan is restructured from SAIC, Iveco and Chongqing Hongyan Truck. The sales of heavy-duty truck ranked 5th in 2010.
Maxus can increase total sales of SAIC commercial vehicles more or less, but it will never lengthen the short-board markedly. Maxus is just an alternative (maybe smaller) of Naveco. SAIC still can hardly find any competitive coach and heavy-duty truck in its own lineup.