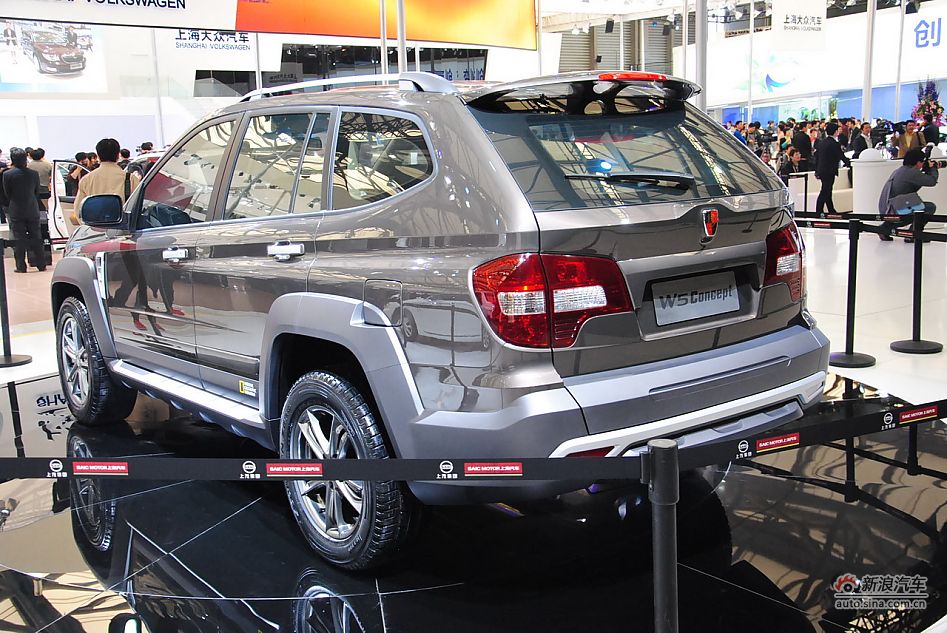 SAIC Roewe SUV is expected to hit the Chinese market this year or as early as next year, Ren Zhangcheng, deputy director of SAIC Motor Technical Center said at China's auto safety theme tour activities last Saturday, The Beijing News reported Thursday.
Different from urban SUVs such as Volkswagen Tiguan, Honda CR-V and Toyota RAV4, the Roewe SUV features a separate body on frame construction, and is a real sport utility vehicle that has been awarded 5-star safety ratings.
Ren also made it clear that after SAIC Motor sold out the rest 3.79% stake in Ssangyong Motor, the company has as always been dedicated to the development of the Roewe SUV, which will soon bear fruit.
The Roewe SUV is built on the platform of Roewe 350 which will also be used for other models in the future, including sedan, SUV, MPV, etc..
During the six-year cooperation, SAIC invested a total of 4.2 billion yuan ($618 million) in restructuring SsangYong and barely got anything in return.
根据调研17万-25万元细分市场增速远远高于其他市场,因此W5定价将落在这个市场区间,并把购买人群主要锁定在"60后"。根据其披露的信息,上市后的荣威W5会有白、紫、银、灰、黑五种车身颜色和更适合年轻人的黑色内饰与迎合商务人群的米色内饰。新车配置包括航空式仪表板、触摸导航娱乐系统,以及智能手机和SDS智能换挡。
  动力上,在普通版和标准版上配备了1.8T发动机,经过全新调整后功力是128kW,扭矩125Nm。而来自奔驰的3.2L G32D发动机,最大功率是162kW,最大扭矩310Nm,该批车型带四驱系统。据悉,为了打造这款专业型SUV,上汽投入数亿打造生产平台。"因为我们的机器是奔驰进口的,本身就是纵置的,荣威本身两个轿车是横置的发动机,在W5上我们花了大量的钱,光开发费就将近两个亿的投资。"刘涛说。在该平台之后,目前上汽还正在打造另外一个属于城市型SUV的紧凑型生产平台。