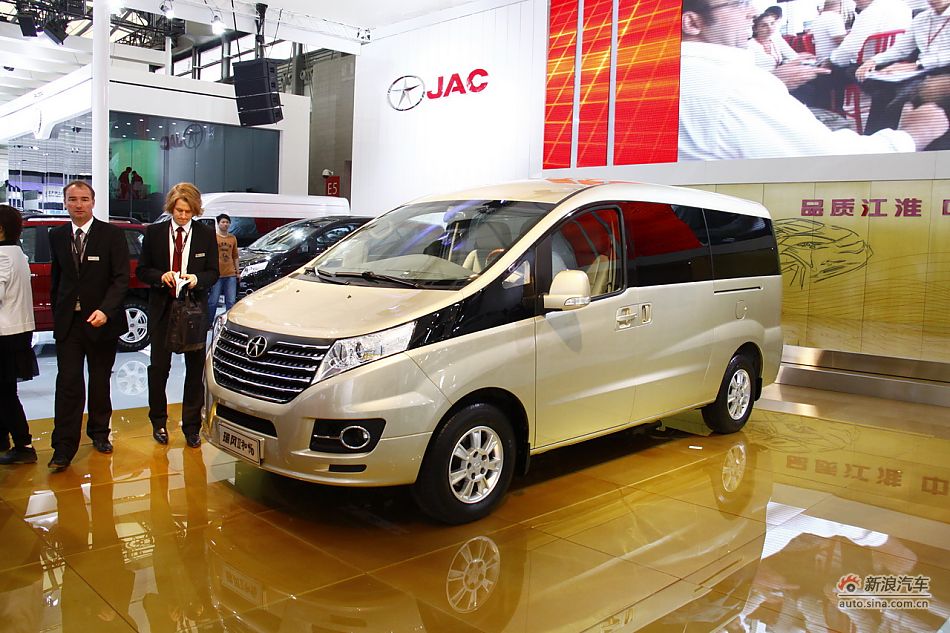 Jianghuai Automobile Corporation (JAC) will reveal the new Refine IV MPV at the Beijing Auto Show in April. JAC's follows fashion with an enormous plastic front. The grille is big and the front bumper is even bigger.
JAC stayed close to the protoype that was unveiled earlier. All that changed is the position of the JACstar, it is attached to the bodywork, like Toyota likes to do, while it was on the loose at the prototype.
The current Refine III comes in a normal and a long version: 4740×1820×1880, wheelbase: 2810, and 5075×1820×1970, wheelbase: 3080. All share the same 2.3 litre four cilinder with 110kw@5500rpm. The new car loox much more massive than the III but it might be that front fooling me. No word yet on new engines. The III costs between 100.000 and 160.000 rmb, depending on luxury-level.The new car will likely cost a bit more, and if this is a true upgrade JAC might actually continue the III next to the new IV. Many a Chinese carmaker does that.
瑞风和畅领衔江淮新车抢拍
 瑞风高端车是江淮乘用车制造水平全面升级的代表作,与现款瑞风相比,瑞风高端车从动力、配置、工艺方面都进行了最大优化。该车未曝光前就已经成为业界关注的焦点,瑞风高端车的亮相不仅代表其上市日程的临近,同时也必将引领国内MPV发展新趋势。此外,有业界人士分析,瑞风高端车的推出,还将预示江淮乘用车在完善产品平台建设后,继续向各细分车型高端市场进发,品牌将全面提升。
i3.sinaimg.cn/qc/2010/0421/2010421181055.jpg" width="600″ />