Admiral Flota Sovetskogo Soyuza Kuznetsov (Russian: Адмира́л фло́та Сове́тского Сою́за Кузнецо́в "Admiral of the Fleet of the Soviet Union Kuznetsov") is an aircraft cruiser (heavy aircraft-carrying missile cruiser (TAVKR) in Russian classification) serving as the flagship of the Russian Navy.
She was built by the Black Sea Shipyard, the sole manufacturer of Soviet aircraft carriers, in Mykolaiv within the Ukrainian Soviet Socialist Republic. The initial name of the ship was Riga; she was launched as Leonid Brezhnev, embarked on sea trials as Tbilisi, and finally named Fleet Admiral of the Soviet Union N.G. Kuznetsov.
She was originally commissioned in the Soviet Navy, and was intended to be the lead ship of her class, but the only other ship of her class, Varyag, was never completed or commissioned by the Soviet, Russian or Ukrainian navy. This second hull was eventually sold to the People's Republic of China by Ukraine, completed in Dalian and launched as Liaoning. Kuznetsov was named after the Admiral of the Fleet of the Soviet Union Nikolay Gerasimovich Kuznetsov.
Displacement:

43,000 tons (Standard-load)[1]
55,200 tons (Full-load)[1]
61,390 tons (Max-load)

Length:

305 m (1,001 ft) o/a[1]
270 m (890 ft) w/l

Aircraft carried:

Approx. 41 aircraft[4]
Fixed Wing;
12 × Su-33 fighters (current)
20 × MiG-29K/KUB fighters (future)
俄罗斯海军的家底、刚刚升级后的库兹涅佐夫号航母,一边航渡,一边训练,水兵们不时地晒着太阳,绕经英吉利海峡,穿越地中海,抵达叙利亚水域。这意味着俄在叙利亚又增添了近50架战机。同时俄罗斯展出了自己的苏33舰载机,作为歼15的大哥,苏33此次倾巢出动。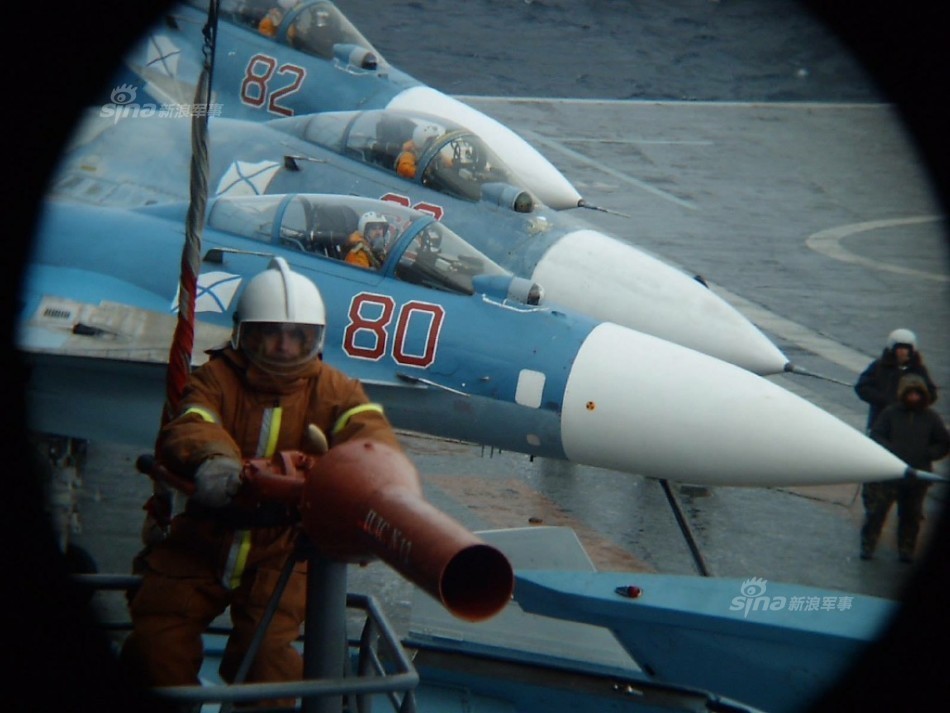 Chinese Liaoning