SWM is a sub brand of Brilliance Auto.
This is the new Brilliance-Shineray X7 MPV. It will be launched on the Chinese car market in September. Price will range from 90.000 to 110.000 yuan ($13,000 to $17,000).
Brilliance-Shineray is a joint venture between Brilliance Automotive and Shineray Motorcycle Company, one of China's largest motorbike makers. They make a range of minivans and mini MPVs under the Jinbei brand, which is owned by Brilliance.
SWM is a new sub-brand. It comes from the Italian motorbike maker SWM Motorcycles, which was bought by Shineray in 2014. That's why the X7 has that flag on the fender
SWM stands for Sironi Vergani-Vimercate Milano (SV-VM > SVVM > SWM), the names of the founders of SWM combined, with the two Vs combined to a W.
Sineray changed the meaning to Speedy Working Motors after they bought the company.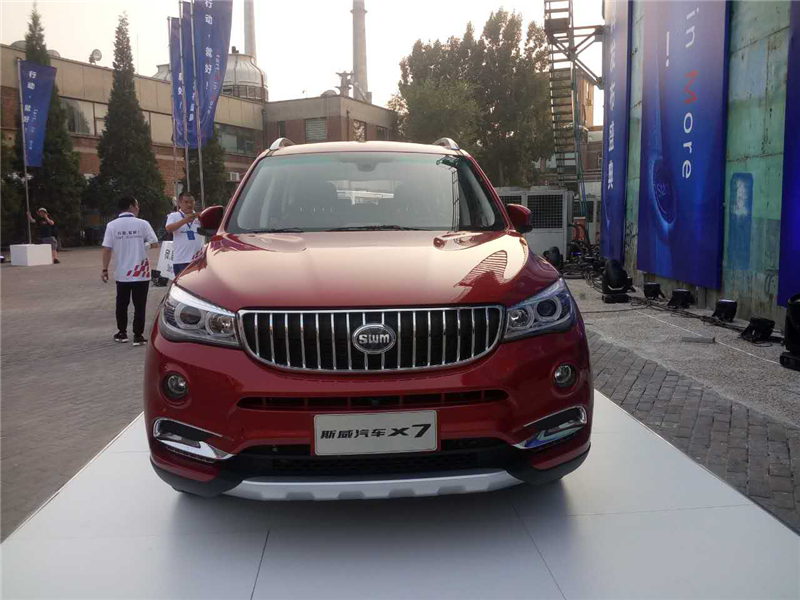 SWM斯威汽车品牌源自意大利,融汇意式极致设计美学和德系精湛工艺品质,立志为消费者创造高品质、多元化的汽车生活。此次品牌发布会上,SWM斯威汽车首款产品SWM斯威X7也正式亮相,预计8月底上市。
国民好车 源自欧洲
SWM诞生于上世纪70年代,曾在欧洲盛极一时,凭借卓越的性能、严谨的做工及前卫的设计风靡市场,与KTM、Husqvarna形成"三分天下"的格局,并成为社会中坚力量崇尚自由和突破的文化符号。
2014年,SWM品牌被鑫源控股全资收购,同时收购原宝马旗下Husqvarna的生产基地、产品及技术平台。同年,在意大利成立了汽车设计中心,并同步在重庆涪陵建造1700余亩乘用车生产基地,酝酿进军乘用车领域。
2016年1月,SWM斯威汽车旗下首款车型SWM斯威X7在重庆涪陵下线,SWM正式以汽车之名走向公众;2016年7月,SWM斯威汽车品牌正式发布;8月,SWM斯威X7将正式上市。