Dutch robots lose football Robocup to China
Football playing robots built by researchers at Eindhoven University have lost the final of the Robocup World Cup 4-1 to a Chinese team. The Dutch team, with players such as Robodinho, were defending champions and beat the same Chinese team, named Water, in 2014 and in 2012. The Chinese won the event in 2011 and 2013, when they also faced Tech United in the final. The robots play independent football and are not controlled by humans during the game. The Robocup competition was launched in 1997 with the aim of stimulating research into robotics and artificial intelligence.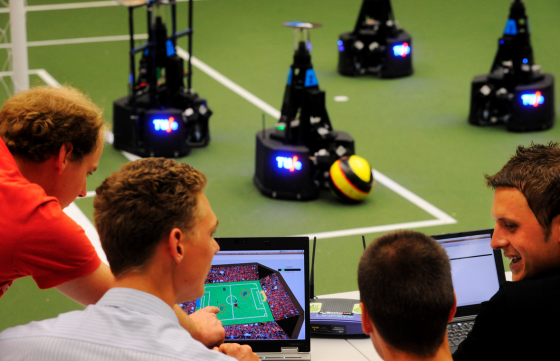 A worldwide competition for the making and operation of robots, RoboCup 2015 opened on 19 July in Hefei City, East China.
This year's event brought together more than 300 teams from 47 countries to showcase the latest robot technologies.
The competition, which ends on 22 July, focuses on three aspects: robot football, service robots and rescue robots.
As the world's largest robot-focused competition, the event also had a special opening ceremony featuring robot technologies. Its interpreting service was undertaken by a robot and two banners used on the occasion were also held by drones.
The RoboCup is not only a competition, but a platform for technicians and science students to learn from each other and transfer the technologies to industrial production, according to one of the event's organisers.
"Speaking from the perspective of industrialisation, as there are so many excellent technologies displayed here and also so many enterprises coming to hold exhibitions and visit, they can easily launch negotiations and co-operation here," said Chen Xiaoping, general chair of the event and president of the Chinese committee of RoboCup.
This year marks the 19th edition of the RoboCup, first held in Japan in 1997.