Ping An Insurance Buys Tower Palace in London
Ping An Insurance Buys Tower Palace in London
China's second largest insurer, Ping'An Life, has snapped up a second landmark building in London.
Ping An has purchased the 'Tower Palace' from Gaw Capital Partners for nearly 500-million US dollars.
The purchase is over 100-million more than Ping'An paid for the 'Lloyds Building' back in 2013.
'Tower Place' is located in the financial section of London.
Its main tenant is Marsh and McLennan.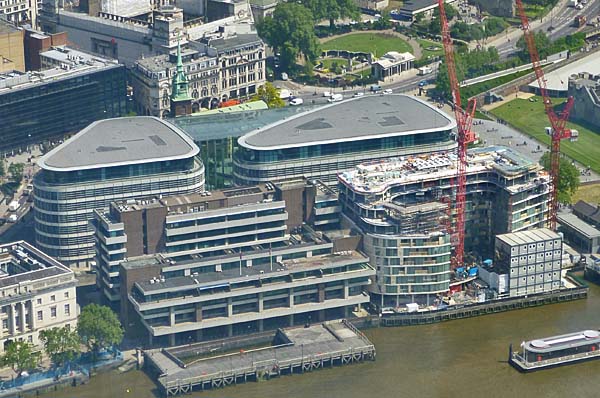 http://manchesterhistory.net/architecture/2000/towerplace5.jpg
Ping An Insurance bought the Lloyds Building from Commerz Real for 260 million pounds (388 million U.S. dollars) in July, 2014.

中国平安4.19亿欧元购伦敦地标
中国大型保险集团海外抄底不动产的热情与日俱增。在2013年豪掷2.6亿英镑买下英国伦敦地标性建筑劳合社(全球著名的保险交易市场)大楼之后,今日又再度爆出消息:中国平安又在伦敦大手笔买楼了。
除中国平安外,这两年,安邦保险、中国人寿、泰康人寿也分别在欧美国家收购不动产。
  如,2015年1月,泰康人寿以1.98亿英镑收购伦敦金融城办公楼Milton Gate;2014年6月,中国人寿和主权财富基金卡塔尔控股以7.95亿英镑收购伦敦金丝雀码头10 Upper Bank Street办公楼。
CHINA Ping An Insurance Co has acquired another landmark property in London, the latest evidence for an ongoing overseas buying spree among Chinese insurers.
The country's second-largest insurer in terms of revenue has acquired Tower Place, a Grade A office complex located in London's EC3 insurance district, Gaw Capital Partners, which provided investment consulting service for Ping An in this deal said today in a statement.
The acquisition costs Ping An about 419 million euros, earlier media reports said.
It was the second significant property investment made by the Chinese Insurer in the same city in one and a half years. In July 2013, it acquired the landmark Lloyd's Building in London for nearly US$400 million.
Designed by world renowned architect Sir Norman Foster and completed in 2003, the property provides 35,700 square meters of office space and is almost fully occupied at the moment, primarily leased to Marsh & McLennan as its UK headquarters.
The seller is an open real estate fund represented by RREEF Investment GmbH, according to Gaw Capital.
Over the past 18 months, Chinese insurers have successfully made into media headlines one after another as they splashed their cash on trophy real estate assets in a number of international gateway cities.
Major deals included China Sunshine Insurance Group's US$400 million purchase of a Sheraton hotel in Sydney and Anbang Insurance Group's US$1.95 billion acquisition of the Waldorf Astoria Hotel in New York.
Asian insurance companies and pension funds are set to play an increasingly important role in the global real estate landscape over the next five years and beyond as they take advantage of changing regulations and improved knowledge of the sector to invest in these assets, while the offshore expansion of Chinese financial institutions will continue unabated, as deregulation of the yuan creates huge investment opportunities overseas, according to international real estate services provider Knight Frank.