China's minimum wage in 2013
Compared to 2012, the minimum wage in China increased about 15% in 2013.
Shanghai now has the highest minimum wage reaching about 300 USD per month.
The government targets doubling the average income of people before 2020.
Future in 2030:
In 2013 the average minimum wage is $200/month, about $2500 /year, with the increase rate of 12% per year, in 2030 the average minimum wage be reach above $10,000, at the level of Europe in 2000, but well relatively good enough.

Considering the possibility that exchange rate of Chinese Yuan against US Dollar might go from 1 USD=6 CNY in 2013 to 1 USD=4 CNY or even 1 USD=3 CNYin 2030, then the average minimum wage in 2030 might be about $20,000, reaching level of Europe in 2015.

Considering the fact that Chinese RMB purchasing power will still be bigger than the USD in America in 2030, the real minimum wage will be about $25,000 in PPP term in 2030, pretty much closing the gap between China's minimum wage and that of Europe in 2030.
2010 Minimum Wage:

2013 Minimum Wage: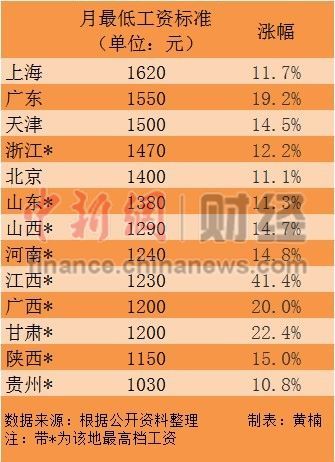 4月以来,上海、山西等地先后上调最低工资标准。目前,全国已有上海、广东、天津、浙江、北京、山东、山西、河南、江西、广西、甘肃、陕西、贵州等13个省区市上调了最低工资。其中,上海市以1620元/月领跑全国,江西省上调幅度最高,达到41.4%。
Huge difference between poor and rich
中国买家买走3.25亿超豪华游艇