[SALES 2012 CHINA] Total 19,306,400 cars sold in 2012
China sold total 19,306,400 cars in 2012, up 4.3%.
Passenger cars:
Production: 15,523,700 units
Sales: 15,495,200 units
Commercial cars:
Production: 3,748,100 units
Sales: 3,811,200 units
TOTAL:
Production: 19,271,800 units
Sales: 19,306,400 units
Final production and sales numbers for the Chinese automobile industry in 2012 have been released by the China Association of Automobile Manufacturers at a recent press conference held in Beijing this past week.
According to the CAAM's figures, which were cited in a report appearing on tireworld.com.cn today, 19.31 million automobiles were sold in the country last year, while 19.27 million automobiles were manufactured. The two figures are 4.33 percent and 4.63 percent higher than respective figures reported in 2011. 2012 sales and production amounts for passenger automobiles totaled 15.49 million units and 15.52 million units, increasing 7.07 percent and 7.17 percent from the previous year, respectively. Meanwhile, 3.81 million commercial vehicles were sold and 3.75 million manufactured throughout the course of the year, 5.49 percent and 4.71 percent less than respective figures from 2011.
A total of 1.81 million automobiles were sold in December, 1.05 percent higher than November's sales result and 7.12 percent higher than last December's. 1.78 million vehicles were manufactured over the month, 1.34 percent and 5.49 percent higher than respective figures from the previous month and previous year.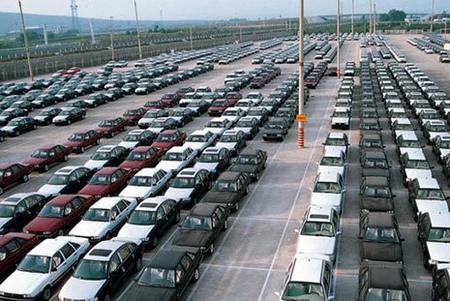 2012年全国汽车产销1927.18万辆和1930.64万辆,同比分别增长4.6%和4.3%,比上年同期分别提高3.8和1.9个百分点,增速稳中有进。
  (新浪汽车讯 胡俊峰 北京报道)据1月11日中国汽车工业协会信息发布会发布的最新数据显示,2012年全年,乘用车增速明显,商用车增速放缓。同时,新能源汽车在2012年呈高速增长。
  2012年乘用车产销分别完成1552.37万辆和1549.52万辆,比上年同期分别增长7.2%和7.1%,增速比上年同期分别提高2.9和1.9个百分点。乘用车产销量首次超过1500万辆大关,创历史新高。
  据中汽协分析,2012年乘用车增长主要受轿车和运动型多用途乘用车(SUV)拉动,其中轿车销量完成1074.47万辆,比上年同期增长6.2%,对乘用车增长贡献度为60.8%;SUV销量完成200.04万辆,比上年同期增长25.5%,对乘用车增长贡献度为39.7%。多功能乘用车(MPV)产销均低于上年同期水平,交叉型乘用车产量略高于上年同期,而销量下降0.1%。
  2012年1.6升及以下乘用车销量占乘用车总销量的67.15%,比上年同期下降0.9个百分点。其中1.6升及以下轿车占轿车总量的比重为70.98%,比上年同期提高0.2个百分点。 1.6升及以下乘用车占比的下降与排量较高的SUV车型快速增长有关,而1.6升及以下轿车占比的提高与行业加快对低排量轿车产品的市场推广速度有关。
  2012年商用车产销分别完成374.81万辆和381.12万辆,比上年同期分别下降4.71%和5.49%,降幅比上年同期分别缩小5.2和0.8个百分点。商用车在2010年达到历史最高点后,已连续两年出现负增长。
  据中汽协分析,商用车产销表现出明显的季节性特征,2012年商用车分月完成情况基本符合历史变动情况。3月份达到全年最高点,之后逐月下降,7月为最低点,从8月开始开始逐步回升,10-12月销量高于上年同期水平。
  货车市场的低迷主要受中、重型货车的影响,2012年中、重型货车销量(含半挂牵引车)比上年同期下降了24.63万辆,轻型货车下降了3.74万辆,而微型货车增加了4.26万辆。
  新能源汽车产销增长较快,据中汽协会不完全统计,2012年我国新能源汽车生产12552辆,其中:纯电动汽车11241辆、插电式混合动力1311辆。销售新能源汽车12791辆,其中:纯电动汽车11375辆、插电式混合动力1416辆。按照可比口径比较,2012年纯电动汽车产销量分别比上年增长98.8%和103.9%。
 (新浪汽车讯 胡俊峰 北京报道)2012年全国汽车产销1927.18万辆和1930.64万辆,同比分别增长4.6%和4.3%,比上年同期分别提高3.8和1.9个百分点,增速稳中有进。
  然而,2012年我国汽车工业产销和行业经济效益的增长速度却进一步减缓。据中汽协会统计1-11月汽车工业重点企业(集团)主要经济指标快报显示,17家重点企业(集团)工业总产值、营业收入比上年同期分别增长4.4%和3.5%,增速比上年同期分别回落1个百分点和6.1个百分点;实现利税总额比上年同期增长5.8%,比上年同期回落7个百分点。
  根据我会整理的国家统计局1-11月全行业规模以上汽车工业企业数据,全行业工业总产值增速为11.8%,增速比前10个月降低了0.3个百分点。
  按照企业经济类型划分,外商投资企业(含中外合资企业)汽车工业总产值增速为12.4%,增速比前10个月有所降低;内资企业增速为11.6%,与前10月持平。
  按照地区划分,1-11月我国东部、中部、西部和东北地区汽车工业总产值比重分别为:53%、17.1%、15%和14.9%。
  按照企业规模划分,大型、中型、小型企业工业总产值比重分别为:60%、19%和21%。
  在国内汽车产销和经济效益增速放缓的同时,汽车出口依然保持高速增长势头。
  据中汽协会统计的汽车整车企业出口数据,2012年汽车整车出口增长明显,突破100万辆,达到105.61万辆,比上年同期增长29.7%(2011年增速为49.5%)。出口的主要车型为轿车和货车,所占比重分别为45.3%和27.9%。出口企业前五名分别为奇瑞、吉利、长城、上汽和力帆,其中奇瑞和吉利均超过10万辆。
  根据中汽协会整理的海关数据, 1-11月,汽车商品进出口总额为1400.75亿美元,同比增长8%。其中进口金额722.56亿美元,同比增长7.4%,出口金额678.19亿美元,同比增长8.6%,贸易逆差44.37亿美元。
  1-11月,汽车累计出口93.17万辆,同比增长19.2%,出口金额125.25亿美元,同比增长26.4%。其中:轿车出口45.46万辆,同比增长33.8%;载货车出口29.41万辆,同比增长9.8%;客车出口11.58万辆,同比增长21.1%。1-11月,上述三大类汽车品种共出口86.45万辆,占汽车出口总量的92.8%。