Chinese Army Aviation WZ-19 attack helicopter
The new Chinese Army Aviation WZ-19 attack helicopters are mainly used to attack tanks and other heavy targets. The new Harbin/AVIC WZ-19 attack helicopter is based on the Z-9W anti-armor attack helicopter, which itself was derived from the license-built AS-365N.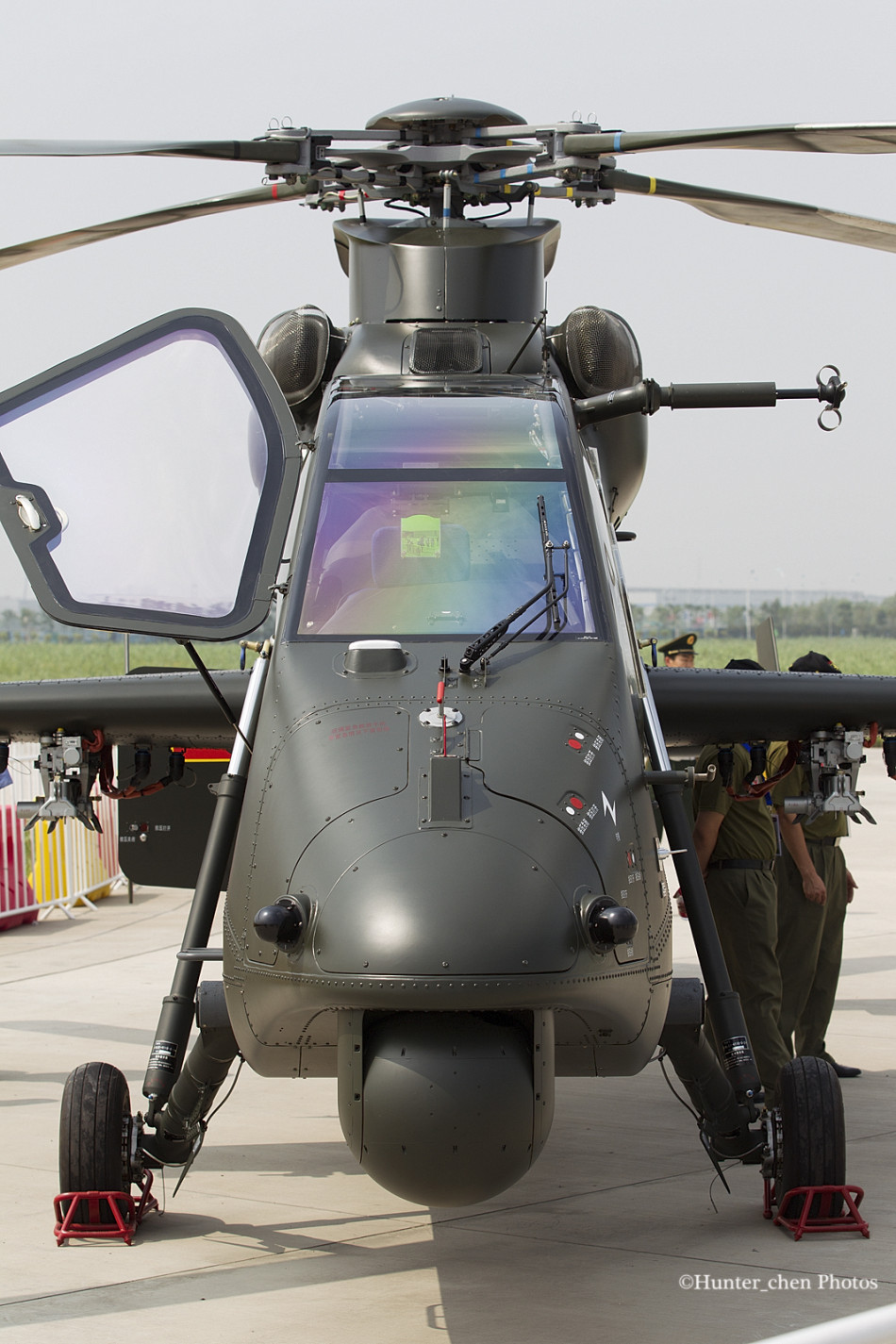 The WZ-19 used the engines (WoZhou WZ8A?), rotor, aft fuselage and tail section (including Fenestron tailrotor) with minor modifications from H425 [one of the recent upgraded variants of the Z-9] swhich speeds up the development. Unlike the the Z-9W, which was basically an wide-body armed utility helicopter, the WZ-19 features a new narrow forwarded fuselage with tandem compact layout similar to that of the other gunship helicopters like Z-10, TAI/Agusta Westland T-129, AH-1Z Viper, AH-64 Apache, Eurocopter Tiger, Mil Mi-28 and HAL Light Combat Helicopter.
武直-19轻型武装直升机
在2011年初,中国大陆网路上又出现一种前所未见的轻型专业武装直升机照片,据称为武直-19(WZ-19)。此种武直-19明显由直-9的机体架构修改而来,改用类似攻击直升机的双座座列驾驶舱,取消机内的通用搭载舱,机首下方加装与武直-10类似的光电旋转塔,机体两侧则有武器挂架,挂载四联装天燕-90空对空飞弹发射器,不过并没有机首机炮。
依照网路上的照片,武直-19的机鼻装有原型机使用的探针,水平尾翼两端的垂直安定面也使用白色涂装,显示照片中的武直-19应该是原型机,其开发进度晚于武直-10。中共发展轻型的武直-19,可能功用类似于美国OH-58D或日本OH-1战搜直升机,作为战场观测、标定以及有限度的火力支援。此外,由于武直-10价格昂贵,因此相对简单便宜的武直-19应该能部署较多数量,与武直-10形成高/低搭配。