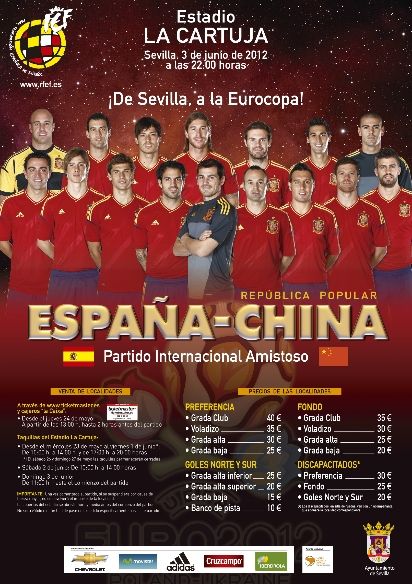 Spain vs China: friendly match 2012.06.04
Spain: the ruling world champion of 2010.
http://uk.eurosport.yahoo.com/football/international-friendlies/2012/spain-china-pr-504453.html
Camacho names roster for upcoming friendly against Spain
Jose Antonio Camacho has named his squad for the upcoming Chinese friendly against Spain and it has a number of surprises. The biggest was Camacho's failure to name Piao Cheng to the roster, despite widespread expectations that he would be a part of the team. There are a number of new players entering Camacho's side for the first time, but he's also surprisingly stuck by Sun Xiang and Zheng Zhi. Also, his failure to name any Liaoning player, especially the CSL's leading Chinese scorer Yang Xu, is another disappointment.
Guangzhou Evergrande: Sun Xiang, Zheng Zhi, Feng Xiaoting, Zhang Linpeng, Qin Sheng, Zhao Xuri, Gao Lin
Beijing Guoan: Yu Yang, Wang Xiaolong
Jiangsu Sainty: Liu Jianye
Shandong Luneng: Zheng Zheng, Hao Junmin, Geng Xiaofeng
Qingdao Jonoon: Liu Jian
Shanghai Shenhua: Feng Renliang
Dalian Shide: Lu Peng
Henan Jianye: Zeng Cheng, Zhao Peng, Zhang Li
Dalian Aerbin: Yu Dabao
Guangzhou R&F: Tang Miao, Xu Bo, Zhang Yuan
Beira Mar: Zhang Chengdong
世预赛20强赛小组出局后,国足面临三年无大赛的尴尬,不过热身赛还要继续,其中最近的一场热身赛就是焦点战,客场过招世界杯冠军西班牙队。西班牙足协官网已经发布了这场比赛的海报,比赛时间也已经确定为当地时间晚上22点,也就是北京时间6月4日凌晨四点。
  中国队与西班牙的热身赛一年前就有消息传出,如今热身的消息终于落定,西班牙足协官网的宣传海报上,囊括了几乎所有西班牙国家队的主力,哈维、卡西利亚斯、拉莫斯、伊涅斯塔等巨星都在列,不出意外,他们在与中国队的热身比赛中将会出场。票价方面,这场比赛最低票价是10欧元,最高40欧元,可以说并不高,而比赛地点是塞维利亚,球场是拉卡尔图哈球场。
  根据西班牙队的热身安排,除了中国队,他们还将在5月26日和30日分别热身塞尔维亚和韩国,与中国队的热身赛是西班牙欧洲杯前的最后一场比赛。中国队上次和西班牙交手是2005年的3月26日,当时朱广沪带队0比3输给了对手。