Chinese truck-maker JAC to offer first sedan—Binyue
Jianghuai Automobile Co., Ltd. (JAC), a Chinese truck maker will release Binyue, its first sedan in late October. The company also plans to deliver five more car models by 2010.
"What makes us different from other home-grown Chinese automakers is that we starts from the middle-range cars, and later expand to high- and low-range ones," said Tao Zhi, deputy manager of JAC passenger vehicle sales division. Tao also said that the dealership network is now under construction.
Binyue is designed by JAC's R&D center in Italy. This C-segment sedan is 4830mm in length,1820mm inl width, 1450mm inl height; its wheelbase is 2790mm. Buyers have options to choose either a 2.0 liter or a 2.4-liter four-cylinder engine; and both automatic and manual transmissions are available.
For the 2.4 Liter engine, maximum output can reach 100 kw/5500/rpm and maximum torque can reach193 N.m/3000/rpm.
JAC, which used to focus on multi-purpose vehicles and commercial vehicles, starts to add passenger vehicles to its product portfolio this year as it finds passenger vehicles more profitable.
By the year 2010, JAC aims to sell 200,000 units cars, with the sales revenue of 15 bln to 20 bln RMB (1.99 to 2.66 bln USD). And by then, JAC is to set up 4 passenger vehicle platforms, on which 7 models ranging from 1.1L to 2.4L will be produced.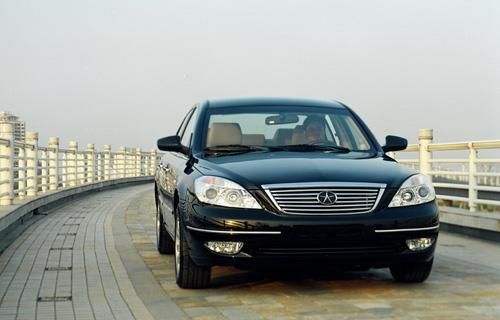 img4.cache.netease.com/photo/0008/2012-03-29/7TNSMVBK4VI90008.jpg" width="600″ />
img4.cache.netease.com/photo/0008/2012-03-29/7TNSOB694VI90008.jpg" width="600″ />
img3.cache.netease.com/photo/0008/2012-03-29/7TNSO4694VI90008.jpg" width="600″ />
img3.cache.netease.com/photo/0008/2012-03-29/7TNSP72S4VI90008.jpg" width="600″ />
img3.cache.netease.com/photo/0008/2012-03-29/7TNSNP7D4VI90008.jpg" width="600″ />
img3.cache.netease.com/photo/0008/2012-03-29/7TNSOFLC4VI90008.jpg" width="600″ />
img3.cache.netease.com/photo/0008/2012-03-29/7TNSORFJ4VI90008.jpg" width="600″ />
img4.cache.netease.com/photo/0008/2012-03-29/7TNSP1794VI90008.jpg" width="600″ />
img3.cache.netease.com/photo/0008/2012-03-29/7TNSNUPN4VI90008.jpg" width="600″ />
img3.cache.netease.com/photo/0008/2012-03-29/7TNSOLDT4VI90008.jpg" width="600″ />
img3.cache.netease.com/photo/0008/2012-03-29/7TNSR2194VI90008.jpg" width="600″ />