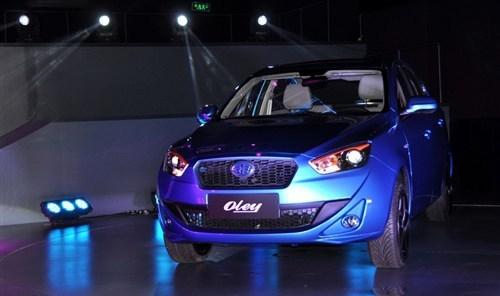 The first model in FAW's brand new Oley line will be making its market debut on April 19, 315che.com reported. The Oley, which was first announced at last November's Auto Guangzhou 2011 exhibition, has already begun rolling off FAW's assembly lines in Changchun, Jilin last month. The car is expected to be priced between 60,000 and 90,000 yuan ($9,535- 14,303).
The Oley (pictured above) traces its history back to FAW's own brand Besturn B30, which was originally planned to be launched in 2010. The B30, which would serve as an entry level model placed below the B50, was first announced in 2008. However, from 2009, when the first spy shots began appearing, all the way to 2011, the car did not make any official appearance.
Then, at last April's Auto Shanghai 2011 exhibition, FAW displayed the Go concept car (pictured below). Information later began appearing that this was, in fact, the Besturn B30. Later that year at the Auto Guangzhou show, the concept made it repeat showing, only this time it was carrying the Oley name.
The Oley is built on the old Jetta PQ32 platform. It is a small sedan, measuring 4.48 m long, 1.66 m wide and 1.46 m tall, with a wheelbase of 2.53 m. A hatchback variant will be available in the future. The car is outfitted with 195/50 R15 tires.
The Oley sports an aggressive look, with a large honeycomb grille and tilted headlights. The position of the turn signals helps add to the menacing visage, which is clearly targeted at younger buyers. The interior also maintains that sporty feel, with red and silver detailing on the instrument panel and a three-spoke steering wheel.
The Oley is equipped with an independently developed 1.5 L engine, with a maximum output of 102 hp and the ability to produce up to 135 Nm of torque. It can be mated to either a five-speed manual or four-speed automatic transmission.