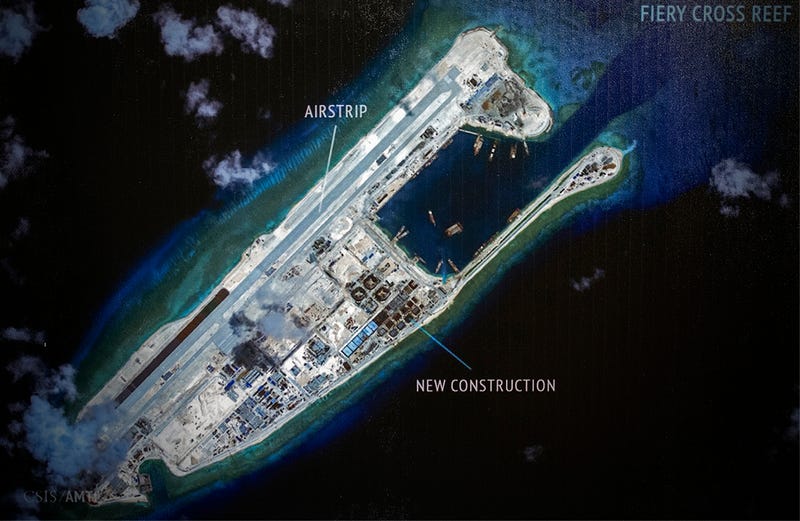 China's island-building campaign in the South China Sea has been happening at breakneck speed. At Fiery Cross Reef, the construction of a 10,000 foot runway capable of supporting fighters and military transports has finally been proven operational after China landed an aircraft on it. . Here's why that's causing great concern among nearby Asian countries and what could be done about it.
Reuters reports that a Chinese spokesperson from the Foreign Ministry said that the test flight was executed to test the runway's ability to meet civilian aviation standard and that it "completely within China's sovereignty."
This revelation came much to the chagrin of Vietnam and other local powers that also have claims on areas of the South China Sea, and the whole situation remains a hot topic on Capitol Hill. But the cold hard fact is that it was really only a matter of time before this happened.
China lands plane on South China Sea man-made island in major escalation
China has landed a civilian plane on the man-made island of Fiery Cross Reef in the Spratly Islands in a major escalation of tensions in the South China Sea.
U.S. and Asian military analysts fear that eventually China will turn the 3,000 meter airstrip into a military facility and dictate movement of ships and planes in international waters and threaten free trade and commerce in one of the world's busiest shipping lanes. The airstrip will be able to handle long-range bombers, fighters and transport aircraft that would provide a significant Chinese military capability in the area.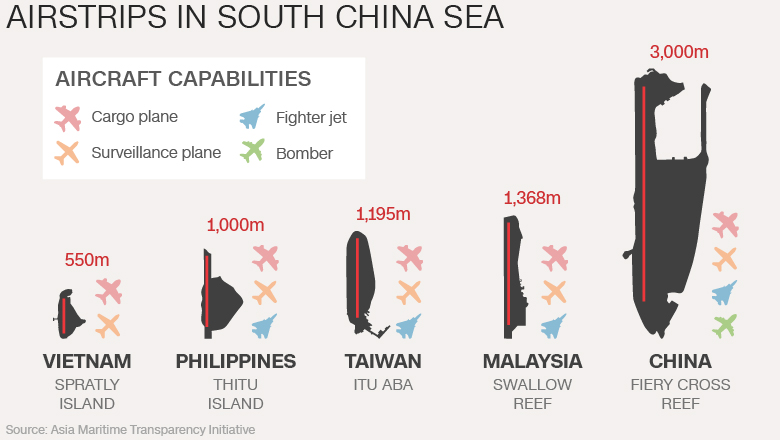 Once the facility is fully operational, China could declare an air-defense zone around the region, which would set up a confrontation between the United States and Chinese expansionist ambitions. Vietnam has filed a diplomatic protest, and the Philippines plans to do the same, according to Reuters.
"That's the fear, that China will be able take control of the South China Sea, and it will affect the freedom of navigation and freedom of overflight," said Philippines Foreign Ministry spokesman Charles Jose.
U.S. State Department spokesman John Kirby said China's landing of the plane "raises tensions and threatens regional stability."
"As these facilities become operational, Chinese warnings to both military and civilian aircraft will become routine," said Ian Storey, a South China Sea expert at Singapore's ISEAS Yusof Ishak Institute. "These events are a precursor to an ADIZ [Air Defense Identification Zone], or an undeclared but de facto ADIZ, and one has to expect tensions to rise."