China taking Silver in men's 4×100-meter relay world championships
China wins historical Silver in men's 4×100-meter relay world championships
Medal List
http://sports.sina.com.cn/z/iaaf_world2015/medal.html
Jamaica Wins 4×100 Final IAAF World Champs 2015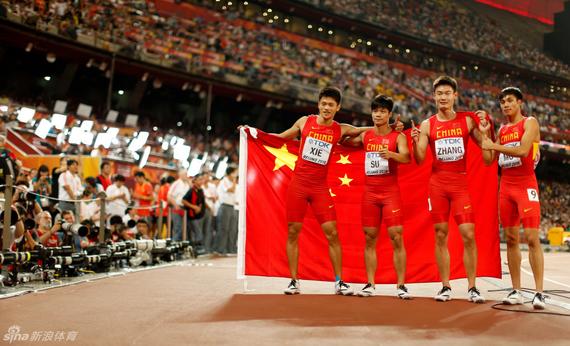 9:18 p.m.
The United States has been disqualified from the men's 4×100-meter relay.
The Americans finished second in the race behind Jamaica on Saturday at the world championships, but the team was stripped of their place because the last exchange was out of the zone.
Instead of the Americans taking silver, China was moved up to second and Canada took bronze.
———
9:13 p.m.
Usain Bolt won his third gold medal of the world championships, anchoring Jamaica's 4×100-meter relay team to victory to match his haul at the Bird's Nest in the 2008 Olympics.
Bolt won the 100- and 200-meter finals, beating Justin Gatlin in both sprints, and added the relay victory on Saturday to successfully defend all three world titles he won in Moscow in 2013.
Jamaica won in 37.36 seconds, with a United States team containing Gatlin taking silver in 37.77 and China getting an unexpected bronze in 38.01.
The Jamaicans completed a sweep of the sprint relays with the women, anchored by 100-meter champion Shelly-Ann Fraser-Pryce, also winning.
北京时间8月29日消息,2015年田径世锦赛继续在北京鸟巢进行。在男子4×100米接力决赛中,中国队以38秒01获得第三名,但随后经过裁判确认, 美国队犯规,成绩被取消,中国队因此获得本届世锦赛接力项目的银牌,再次创造历史!!通过慢镜头可以看出,美国队三四棒交接已经出了接力区。
北京时间8月29日晚,在北京进行的2015年世界田径锦标赛结束了男子4乘100米决赛争夺,中国队发挥出色,以38秒01的成绩获得亚军,实现中国男子短跑接力上的重大突破!博尔特领衔的牙买加队以37秒36的今年世界最好成绩获得冠军,实现男子4乘100米四连冠,美国队原本以37秒77排名第二,但官方审核,美国队犯规被取消成绩,加拿大队以38秒13获得第三。