3 Chinese banks top Forbes' list of biggest firms
2014 综合得分
or the second year running, China's ICBC bank heads the Global 2000 list put out by Forbes magazine of the world's biggest firms.
New York, May 7 (EFE). — Chinese banks occupy the first three spots on the Global 2000 list of the world's biggest public firms published Wednesday by Forbes magazine, where for the first time in the 11 editions of the list not a single European company appears among the top 10.
The Forbes list on which only publicly traded firms that meet assorted criteria such as income, profits, assets and market value are included is headed for the second consecutive year by Industrial & Commercial Bank of China (ICBC), while China Construction Bank is in second place.
Agricultural Bank of China rose five slots to third place, followed by JPMorgan Chase, the largest U.S. bank, and Berkshire Hathaway, Warren Buffet's investment conglomerate.
Oil major Exxon Mobil, General Electric and Wells Fargo bank all of them American occupy the No. 6 through 8 slots, and the top 10 are rounded out by Bank of China and PetroChina.
Taken together, the firms on the list bring in $38 trillion in yearly income, make $3 trillion in profits and have $161 trillion in assets, and they have a market value in 2014 of $44 trillion (13 percent more than last year), according to Forbes experts.
By geographic zones, AsiaPacific leads once again with 707 firms, followed by North America with 629 and Europe with 605, although the Middle East and Latin America have gained.
By countries, the United States leads with 563 firms, ahead of Japan with 225 and China with 207.
Twentyseven Spanish countries find themselves on the list, along with 59 Latin American firms.
Tech giant Apple is No. 15 and ranks first in terms of market capitalization, while WalMart is in the 20th spot but has the highest sales volume of any firm worldwide.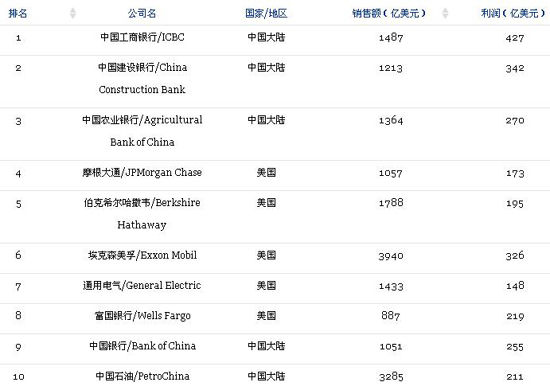 今年中国企业破天荒地一举拿下榜单的前三甲,而且在全球十强企业中占到五席。国有控股的中国工商银行连续第二年蝉联冠军,中国建设银行夺得亚军,而中国农业银行的排名上升五位,成为季军。中国"四大"国有商业银行中的最后一家——中国银行,也闯入十强,排名第九。
在中国企业集体进步之际,美国摘得十强企业中的其他五席。伯克希尔哈撒韦公司(Berkshire Hathaway)和富国银行(Wells Fargo)的排名均上升四位,分列第五和第九。摩根大通(J.P. Morgan)的排名下滑到第四,其综合得分落在中国农业银行之后。荷兰皇家壳牌(Royal Dutch Shell)和汇丰控股(HSBC Holdings)这两家去年位列十强的欧洲企业,今年跌落到第11和第14。
全球商界潮起潮落永不停息,而这份一年一度的榜单为我们提供了一个"观潮"的良机。从上榜企业的数量看,美国依然傲视群雄,总共有564家企业入榜。日本紧随其后,有225家企业上榜,不过相比去年的数字减少了26家。中国上榜企业(包括大陆和香港)增加25家,超过其他所有国家,总数则达到207家。有三个国家今年首次有企业上榜,分别是毛里求斯、斯洛伐克和多哥。
自从我们在2003年首次发布这份榜单以来,东西方之间实力对比的变化可谓翻天覆地。今年我们把上榜企业划分成七个地区,从而将不同地区之间的分化更加细致地反映出来。亚洲地区凭借674家上榜公司轻松夺魁,北美(629家)和欧洲(506家)紧随其后。相比11年前的情况,变化是显而易见的,那时候北美地区的上榜企业数量比亚洲全部上榜企业的数量还要多出50%以上。新兴市场地区,尤其是中东和中南美地区,也在过去十年中取得巨大进步,上榜企业数量分别增长265%和76%。非洲仍然是垫底的地区,虽有进步,但速度缓慢,上榜企业只增加七家。而且这其中有四家新上榜非洲企业是来自尼日利亚,使得该国上榜企业总数达到五家。
http://finance.sina.com.cn/china/20140508/165719044730.shtml