Olympic swimming champion Sun Yang jailed after accident
Olympic swimming champion Sun Yang jailed after accident
HANGZHOU, China, Nov. 4 (UPI) — Chinese Olympic swimming champion Sun Yang faced seven days in jail after he got into a car accident and couldn't produce a driver's license, police said.
Sun was driving a Porsche SUV he said he borrowed from a family member Sunday when a bus crashed into him from behind, Xinhua reported.
No injuries were reported.
Sun was unable to provide a driver's license to police at the time of the incident, a Hangzhou police officer said.
"After looking into the system, we did not find any record of his license. Sun admitted he did not have one," the officer said.
Sun apologized for his behavior Monday on Weibo, a blogging website.
"I should have been a role model as an athlete and a public figure but I failed my responsibility," he wrote. "I am deeply sorry for what I have done and will reflect on my behavior. Because I have been focusing on training and competition, I ignored learning some legal knowledge, which led to my mistake."
In addition to seven days in jail, Sun was fined an undisclosed sum, though the violation may carry a fine up up to $327, Xinhua said.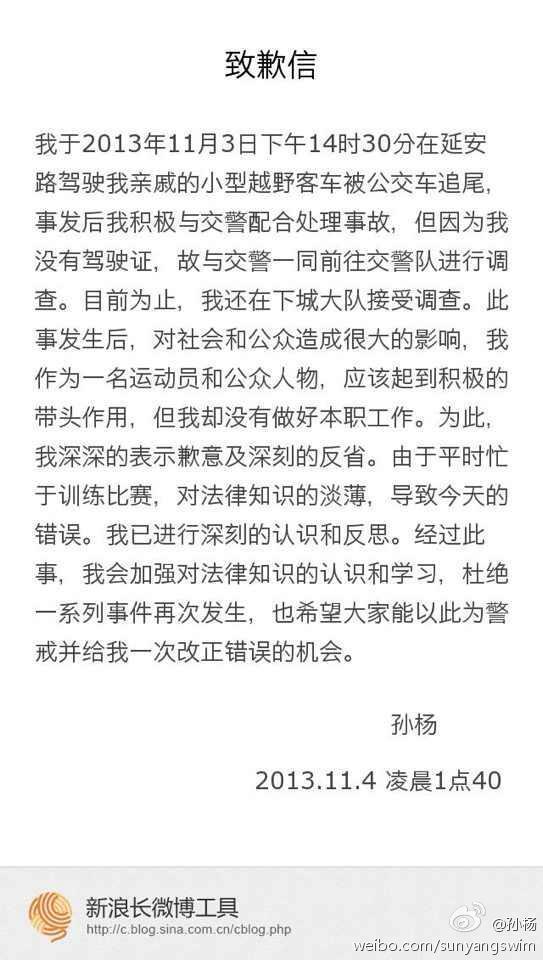 Sun has been driving without license for a while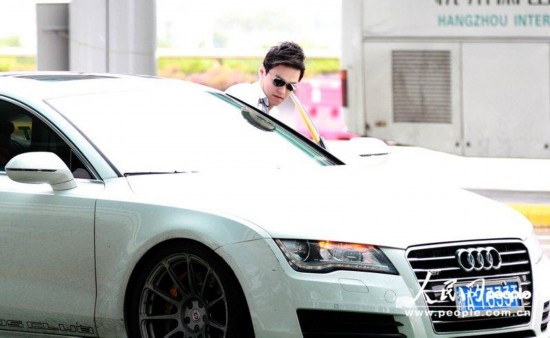 奥运冠军孙杨被国家队开除 暂停一切比赛资格
  北京时间11月6日,国家体育总局游泳运动管理中心召开新闻委员会通气会,通报了对孙杨的处分决定,国家游泳中心作出对孙杨违规违纪行为的处理决定:暂取消参加国内外一切比赛资格;暂不参加国家队集训;不代表国家队参加任何社会行动和新的商业活动。游泳中心坚决支持浙江执法部门和体育等部门对其作出的处罚。
  11月3日,在杭州一辆保时捷卡宴与公交车发生刮擦,围观群众发现卡宴驾驶员竟是孙杨。据交警部门查实,孙杨系无证驾驶。4日下午,孙杨被杭州市公安交警部门罚款,并处行政拘留7天。随后浙江体育职业技术学院对外发布了对孙杨在全运会后多次违纪行为的处罚决定。孙杨被处以停训、停赛、停止一切商业活动,以及建议暂不参加国家队集训的严厉处罚。
  以下为《国家体育总局游泳运动管理中心对孙杨违规违纪行为的处理决定》全文:
  游泳运动员孙杨11月3日发生无证驾驶机动车事件,受到公安部门行政拘留处罚,造成恶劣的社会影响。
  作为一名奥运冠军,孙杨本应严于律己,自觉担当起相应的社会责任,向社会各界展示中国运动员良好的精神风貌。但近期以来,孙杨目无国家法规,多次严重违反运动队管理规定,触犯了道德底线,背离了体育精神,严重损害了国家游泳队和中国运动员的形象,辜负了国人的殷切期望和厚爱。
  为了教育挽救本人,严肃队规队纪,警示其他队员,维护中国游泳的良好形象,践行法律面前人人平等,我们坚决支持浙江执法部门和你体育部门对其作出的处罚,同时根据《国家游泳队运动员管理办法》决定对其进行如下处理:
  一、暂取消参加国内外一切比赛资格;
  一、暂不参加国家游泳队集训;
  二、不代表国家游泳队参加任何社会活动和新的商业活动。
  孙杨曾经为中国游泳事业的发展做出过积极贡献,此次严重违规违纪行为令人十分痛心。希望孙杨能够在此次事件中吸取教训,深刻反省,以实际行动充分认识并改正错误,走出逆境,努力把自己塑造成为全面发展的新人,继续为我国的游泳事业做出贡献。