Guangzhou Evergrande win AFC Champions League
Guangzhou Evergrande win AFC Champions League
2013世俱杯将于12月11日-21日在摩洛哥进行,恒大的世俱杯首秀将于当地时间12月14日下午4点进行,对手是非洲冠军(将在今夜于奥兰多海盗队与阿尔阿赫利队之间产生)。如果能闯过非洲冠军这一关,恒大将在12月17日的半决赛中挑战欧洲冠军拜仁[微博][微博]。对于恒大加入世俱杯战团,拜仁方面早有预判。在与成都商报特约记者交流时,今年夏天追随瓜迪奥拉投奔慕尼黑的西班牙超新星蒂亚戈表示:恒大令人刮目相看,他非常期待在世俱杯与孔卡[微博]过招。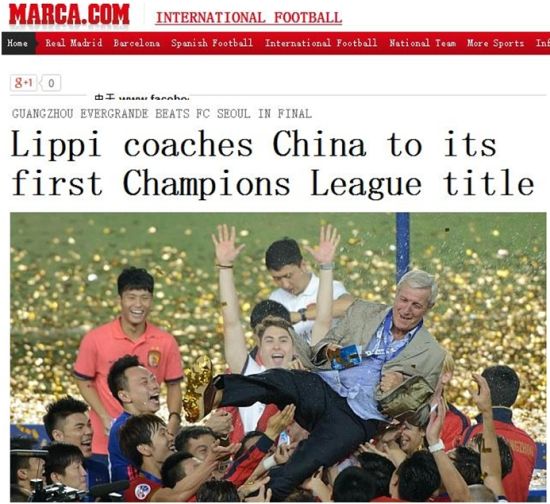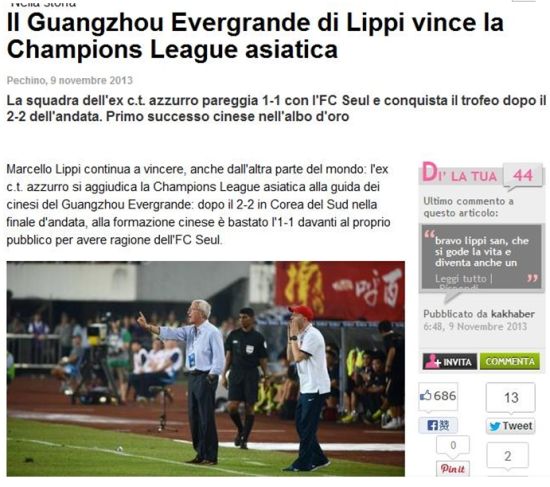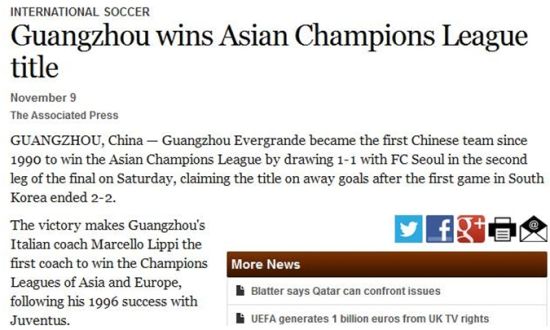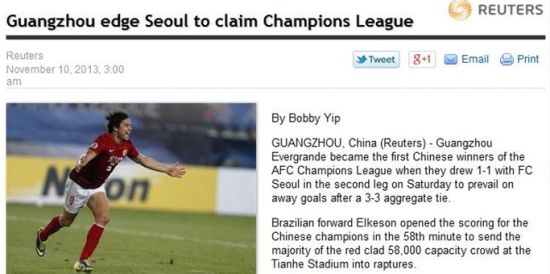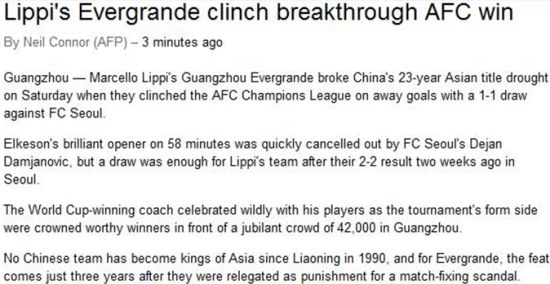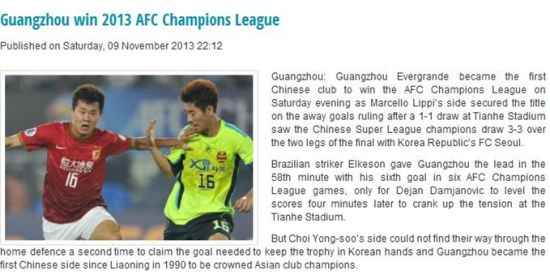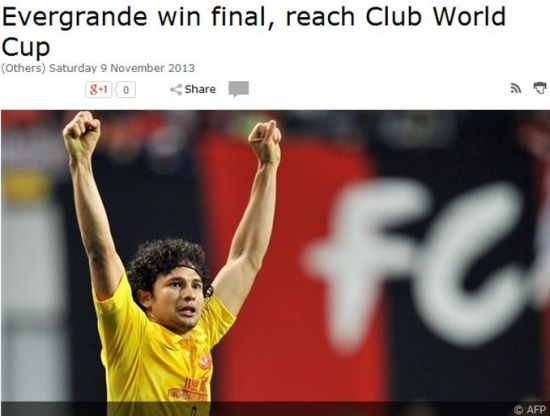 2013.11.09 Historical Day for Chinese Soccer
Guangzhou Evergrande have broken China's 23-year Asian title drought, clinching the AFC Champions League on away goals with a 1-1 draw against FC Seoul on Saturday.
Elkeson's brilliant opener on 58 minutes was quickly cancelled out by FC Seoul's Dejan Damjanovic, but a draw was enough for Lippi's team after their 2-2 result two weeks ago in Seoul.
World Cup-winning coach Marcello Lippi celebrated wildly with his players as the tournament's form team were crowned worthy winners in front of a jubilant crowd of 42,000 in Guangzhou.
No Chinese team has become kings of Asia since Liaoning in 1990, and for Evergrande, the feat comes just three years after they were relegated as punishment for a match-fixing scandal.
Evergrande's Argentine wizard Dario Conca twice grazed the post in a mixed first half but the game came alive when Brazilian striker Elkeson showed superb touch to open the scoring.
The powerful forward stretched out his left leg to deftly flick on Muriqui's ball from the centre circle, a touch that gave him space to coolly drive the ball low into the FC Seoul goal.
Damjanovic gave the visitors hope just four minutes later when he capitalised on lacklustre defending with a shot on the turn to make it 1-1.
However, FC Seoul were unable to get the necessary second goal and after a tense finish the red-clad crowd erupted at the final whistle.
The game had got off to a fluid start with both sides creating openings, before Evergrande began to take control.
The hosts almost went ahead after clever interplay between Elkeson and Zhang Linpeng created space for Dario Conca, whose shot came off the outside of the near post.
Five minutes later, the impressive Conca hit the same post from distance, while Elkeson also tested goalkeeper Kim Yong-Dae from long-range and saw an ambitious bicycle kick sail wide.
With FC Seoul content to sit back, the first half ended tepidly but it was a different story after the break with Muriqui going close after a one-two, before Elkeson's goal.
Evergrande had reached the final in stunning form, scoring eight goals against their semi-final opponents, Japan's Kashiwa Reysol.
Evergrande, who have already won their third straight Chinese league title, will now go for an unprecedented treble when they face Beijing Guoan in the Chinese FA Cup semi-finals later this month.
AFP
北京时间11月9日,2013年亚冠联赛决赛次回合,广州恒大主场1比1战平首尔FC,从而以3-3的总比分获得亚冠冠军,赛后全队疯狂庆祝登上亚洲之巅。