Ajax sign Chinese midfielder Wang Chengkuai
Wang Chengkuai 18 years old
1.8m
Good Chinese, English, Dutch
Huawei on Ajax shirts?
Video
LINK
THE HAGUE, Oct. 2 (Xinhua) — Ajax have attracted the 18-year-old Chinese midfielder Wang Chengkuai, who signed a two-year-contract until September 1, 2015, the Dutch soccer club announced on Wednesday.
Wang Chengkuai was born on January 23, 1995 in Zhejiang, China. He will start playing for the Ajax reserves, who play in the Dutch second division.
In January 2013, Dalian Shide FC quitted the Chinese super league, and the contract of Wang Chengkuai was thus terminated. That's why he could join Ajax without any obstacle as a free agent.
Together with Wei Shihao he was already on trial in January this year. Wang Chengkuai will be the first Chinese player at Ajax.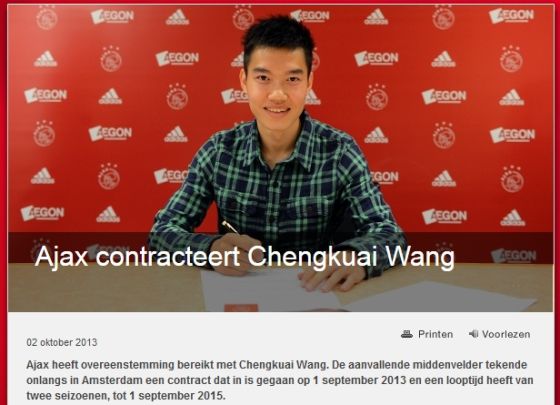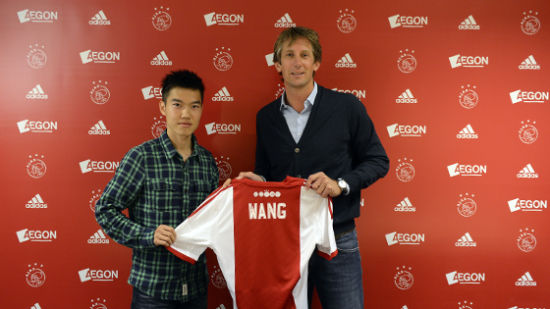 北京时间10月2日,荷兰阿贾克斯俱乐部官方宣布,与中国小将王成快正式签约,合同为期2年,至2015年9月1日止。本赛季,他将为阿贾克斯预备队征战,他也成为阿贾克斯俱乐部队史第一位中国球员。
  阿贾克斯在官方网站发布了三张双方签约现场的照片,其中,王成快与前荷兰巨星范德萨的合影尤为引人注目,两人共同展示了王成快的阿贾克斯球衣。此外,还有王成快与他的寄宿家庭成员的合影。
  出生于95年的王成快是浙江温州人,胜任中前场的多个位置,曾隶属于大连实德[微博]俱乐部。他曾在2009年代表U14国少队征战首届亚洲青年运动会,在中国队7-3大胜缅甸队的比赛中,他上演梅开二度。同年,他代表辽宁参加了第十一届全运会男子足球乙组比赛,随队获得第三名。2012年8月,王成快作为第二届"绿茵争程"中国赛区的四名代表之一参加了在巴塞罗那拉玛西亚青训营进行的全球总决赛,在100进52的淘汰赛中,包括王成快在内的中国小球员全军覆没。被淘汰后,王成快泪流满面,他在赛后的一番表态说明他当时对在海外参加比赛的准备明显不足,"场上的掌声对我来说很刺耳,像是一种羞辱,在国内一直走的很顺,一出国门就这种遭遇很难接受,看到日韩选手也站在台上,自己本来想代表中国出来展示中国球员的能力,但是没有表现好,觉得自己很丢人。"
  然而,王成快的留洋之路峰回路转,阿贾克斯体育总监奥维马斯让时任山东鲁能[微博]主教练的滕卡特推荐中国球员,滕卡特推荐了王成快和鲁能小将韦世豪,这两人获得了赴阿贾克斯试训的机会。在这次试训后,奥维马斯和一线队助理教练博格坎普都对王成快表示满意,博格坎普非常欣赏王成快拿球时候的冷静与成熟,认为他可以成为一名出色的影子前锋。但由于王成快当时未满18岁不能签约等原因,他被安排随队训练,未能很快成为阿贾克斯的一员。不过,王成快最终还是成功牵手荷甲豪门。