Z-11 light utility helicopter
Z-11 is a light utility helicopter developed by Changhe Aircraft Industries Corporation (CAIC). According the Changhe Aircraft Industries Corporation website, it is claimed to be the first indigenously-designed helicopter in China. Z-11 project started in 1989, first flight was made in Dec 1994. In Oct 2000, test flights of Z-11 were completed. The general designer of Z-11 is Mr. Wu Ximing (吴希明), who is also the general designer of three other Chinese helicopters, including WZ-10. Under Mr. Wu, Z-11 became the first Chinese helicopter to be completely designed by CAD/CAM.
General characteristics:
Crew: 1
Capacity: 6
Length: 11.24 m[6] (36 ft 10¾ in)
Rotor diameter: 10.69 m (35 ft 0¾ in)
Height: 3.14 m (10 ft 3½ in)
Disc area: 89.8 m² (966 sq ft)
Empty weight: 1,120 kg (2,469 lb)
Max. takeoff weight: 2,200 kg (4,850 lb)
Powerplant: 1 × WZ-8D turboshaft, 510 kW (684 shp)
国产Z-11WA轻型武装侦察直升机
解放军陆战装备种类越来越全威力逐步增强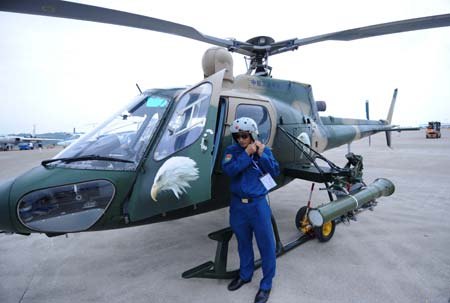 A pilot stands nearbay a homemade Z-11 armed helicopter during the Zhuhai Air Show, November 5, 2008. Z-11 is a type of light observation and armed helicopter built in China.