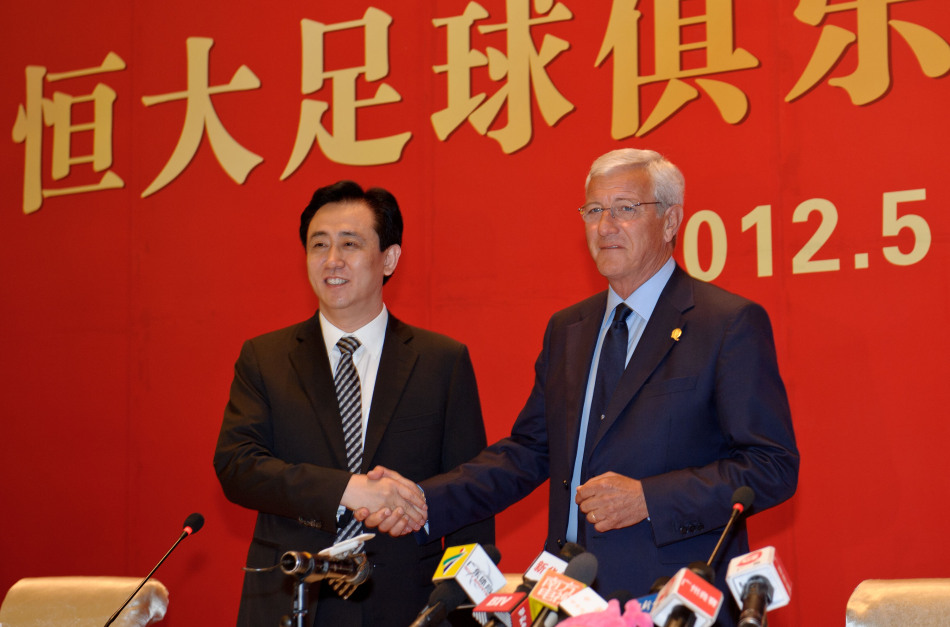 GUANGZHOU, China (AP) Marcello Lippi has been hired to coach big-spending Chinese Super League club Guangzhou Evergrande.
Evergrande released a statement Thursday saying it had hired the World Cup-winning Italian coach until November 2014. Lippi later appeared at a news conference broadcast live on Chinese television to discuss his appointment.
Lippi replaces South Korean manager Lee Jang-soo, who took Guangzhou to promotion and then the 2011 Chinese Super League title. Evergrande is also through to the last 16 of the Asian Champions League.
Lippi led Juventus to five Italian titles over the 1990s and 2000s and Italy to the 2006 World Cup title.

Lippi's year salary is about 10 million euro by Evergrande.
 里皮执教履历:
  全名:马塞洛-里皮(Marcello Lippi)
  出生:1948年4月11日,已满64岁;国籍:意大利
  曾执教的球队:庞特德拉、锡耶纳、皮斯托伊塞、卡拉雷塞、切塞纳、卢切塞、亚特兰大、那不勒斯、尤文图斯(微博)、国际米兰(微博)、意大利国家队
  教练生涯:
  里皮截止到2012年共执教参加506场联赛,215胜174平117负,其中执教甲级联赛298场165胜78平55负。(执教庞特德拉队34场10胜17平7负;锡耶纳队17场4胜6平7负;皮斯托伊塞队34场10胜15平9负;卡拉雷塞队34场10胜16平8负;切塞纳队51场8胜21平22负;卢切塞队38场8胜21平9负;亚特兰大队25场10胜7平8负;那不勒斯队34场12胜12平10负;尤文图斯队258场149胜69平40负;国际米兰队35场17胜7平11负)。里皮执教国家队参加比赛共50场,24胜20平6负。
  执教获得的荣誉:
  意甲联赛冠军5次(1994-95、1996-97、1997-98、2001-02、2002-03赛季)、意大利杯赛冠军1次(1995年)、意大利超级杯冠军4次(1995、1997、2002、2003年)、欧洲冠军杯冠军1次(1995-96赛季)、欧洲超级杯冠军1次(1996年)、丰田杯冠军1次(1996年)、世界杯冠军1次(2006年)
http://sports.sina.com.cn/z/lizhangzhulippi/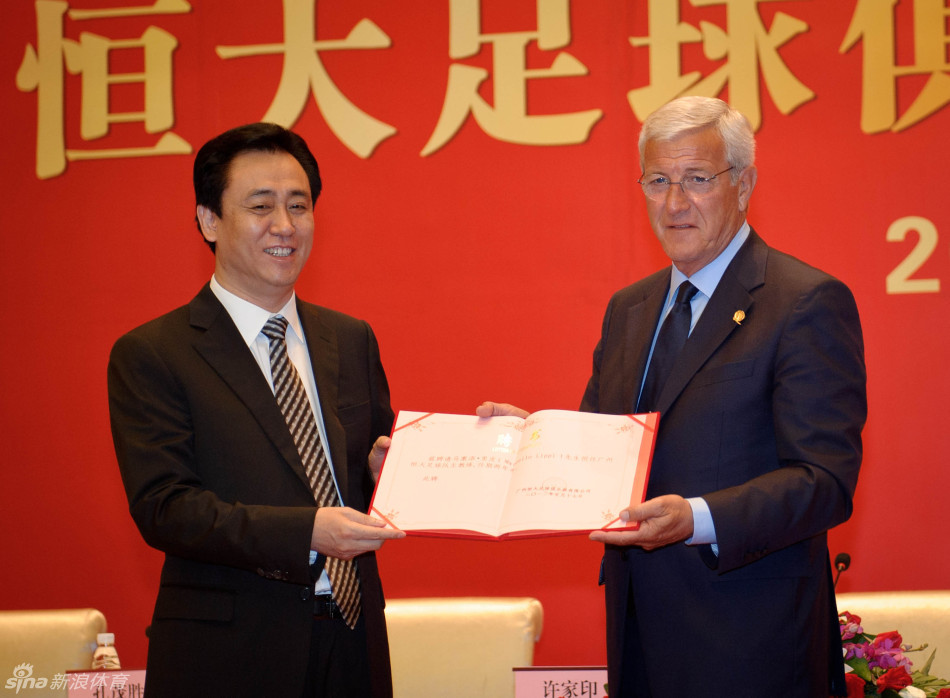 赋闲在家两年后,64岁的马塞洛·里皮终于接受了来自中国的执教邀请。搭乘中国老板的私人飞机来到广州之后,他得到了这样一些礼物:珠江畔的望江独栋别墅,私人游艇,以及据说达到1000万欧元的年薪。
 当然,除了给予里皮团队足够的信任与尊敬,许家印的厚礼,还有那份世界大牌教头中第二高的薪水。
  事实上,当年里皮执教意大利队时的年薪是220万欧元。而中国人开出的价码意味着,无论是"宇宙队"巴塞罗那的主教练瓜迪奥拉,还是在世界上最赚钱的俱乐部曼联(微博)执教26年的老爵爷弗格森,都无法在薪水上媲美这位年过花甲的老帅。而同样身为意大利名帅的扎切罗尼,尽管如今担任日本国家队主教练,每年的薪水也只有里皮的十分之一。
http://sports.sina.com.cn/j/2012-05-23/10196072284.shtml