CJ-10 (DongHai-10) Landbased Cruise Missile: range 1500+KM
CJ-10
DH-10: EastSea 10
The DH-10 LACM was on display for the first time during last night's rehearse for the PRC's 60th anniversary of the nation's founding near Tiananmen square.
This secretive project was first reported in 2004 and according to the 2008 edition of the "Military Power of the People's Republic of China" (here) the 2nd Artillery Corps has an estimated 50 to 250 missiles with about 20 to 30 launchers under its command.
The DH-10 LACM has an estimated range of more than 1,500km and likely to be equipped with an integrated inertial navigation system/Global Positioning System, supplemented by a terrain contour mapping system and digital scene-matching terminal-homing system able to provide a circular error probable (CEP) of 10m.
Together with YJ-63, they formed the PLA's "stand-off, precision strike" package against high value targets — a capability that was inspired by the US's success in the recent Gulf Wars.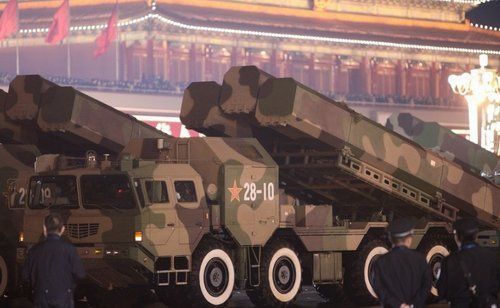 "东海"-10型对陆攻击巡航导弹的射程已经达到1500至2000公里,所以这方面该导弹已经表现得很不错。由于GPS和其他导航系统的不断完善,制导问题变得比较简单。巡航导弹以往必须采用雷达图像与地形匹配制导,在技术上是一个富有挑战的任务。如今,他们所需要做的就是安装一台高性能的导航接收器,有消息称,解放军"东海"-10型对陆攻击巡航导弹已经采用了十分先进的数字图像匹配技术。在任何情况下,中国都有大量聪明的工程人员,并拥有充足的资金支持本土技术的发展。
  关于中国二炮部队的反舰弹道导弹"东风"-21D,已经有很多文章和报道进行了论述。不过,瞄准陆基重要价值设施的中国巡航导弹技术能力并没有受到如此重视。中国对陆攻击巡航导弹的一个杰出代表就是"东海"-10巡航导弹,该导弹拥有非常远的射程。对于中国的邻国和驻亚洲美军而言,如果冲突爆发,"东海"-10巡航导弹将是一个非常大的威胁,未来这种导弹很可能被用于袭击美国设在亚太地区的军事基地或美国在这个地区的盟国。
"东海"-10型巡航导弹对美国的陆基空军力量以及其他固定目标如后勤和通信设施来说将是最致命的威胁,在与弹道导弹和飞机的配合中,"东海"-10将会发挥最大的效用。
许多美国军事学者认为,美军必须做好准备,防范解放军二炮部队利用弹道导弹和巡航导弹发动的"联合饱和攻击"。中国是否已经发展并制定出作战方针和战略,以决定在什么情况下发射这些导弹,这是美军官员和学者最为关心的问题。
但是,目前摆在五角大楼面前的问题是,在大多数亚太美国空军基地中几乎都没有什么机库掩体。例如美军嘉手纳空军基地,目前总共只有15个地上机库,如果每个机库硬塞入两架战机,也只能停放30架战斗机;在日本冲绳的普天间美国海军陆战队飞机场,根本没有坚固可靠的机库设施;在驻日美军海军陆战队岩国机场和本州横田驻日美国空军基地,或关岛的安德森空军基地都没有防御能力可靠的机库。