[Brilliance Model] V5 City 4×4 SUV – $ 15,000 to 20,000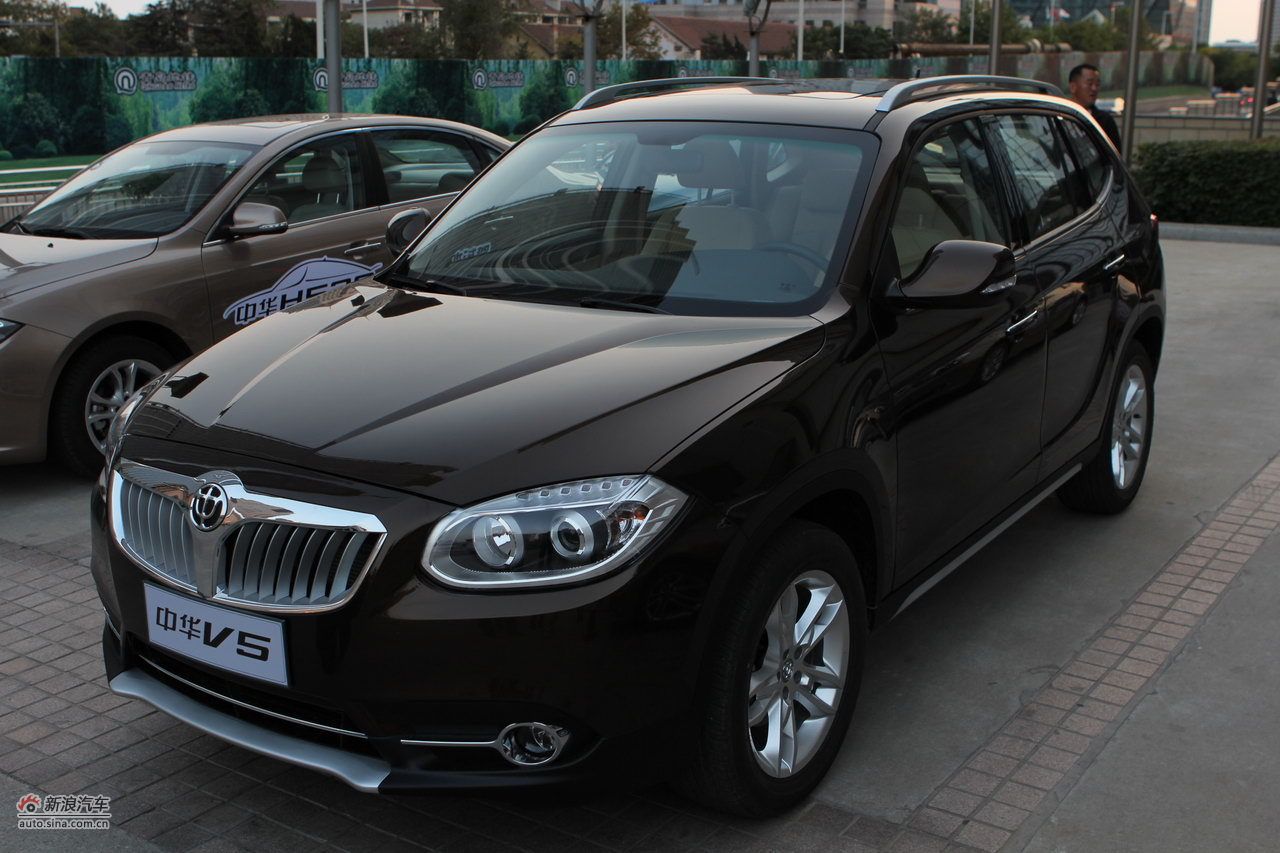 The new Brilliance V5 SUV will debut at the Guangzhou Auto Show next week. Late October we saw the first pics of the naked production car but it was kinda spoiled by some weird blue tape around the windows. Now back again with another V5 all out in the open. No tape, this is it.
The V5 (fka A3 SUV) is based on the same platform as the Brilliance H530 sedan that was listed earlier. Two engines: a Mitsubishi 1.6 with 119hp and 151nm and Brilliance's own 1.5 turbo with 136hp and 200nm. Transmission: 5-speed manual or 5-speed automatic. Price will start around 85.000 yuan.
华晨中华V5上市 售价10.98-16.58万元
  中华V5车型实际上与FRV、FSV、H530均是来自于华晨的A车型平台,也是华晨中华的首款SUV车型,其轴距2630mm,前后轮距的尺寸分别是1544mm和1530mm。车身尺寸长宽高分别是4405*1800*1615mm,带有车顶行李架的豪华版车型高度略高一些,达到1627mm。前接近角18.5度,后离去角20.6度,和较高的离地间隙保证了其SUV的特性。
  首先上市的将是搭载沈阳航天三菱汽车发动机制造有限公司的4A92S型号发动机的1.6L车型,最大功率达到了87kW/6000rpm,最大扭矩为151Nm/4000rpm。后续还将推出一款1.5T涡轮增压发动机车型,代号BM15T发动机来自于华晨自己的沈阳华晨金杯汽车有限公司,发动机最大功率为100kW/5500rpm,最大扭矩为200Nm。1.5T车型和1.6L的高配版车型都配置17寸铝合金轮毂和225/55R17轮胎,其余车型配置16寸轮毂和215/65R16车轮。
  中华V5的内饰非常熟悉,基本是与H530轿车完全共享的设计,别克风格的多功能方向盘,奥迪风格的半包裹式中控台,高配车型还将配置车身稳定系统,无钥匙启动,自动恒温空调等舒适性装备。