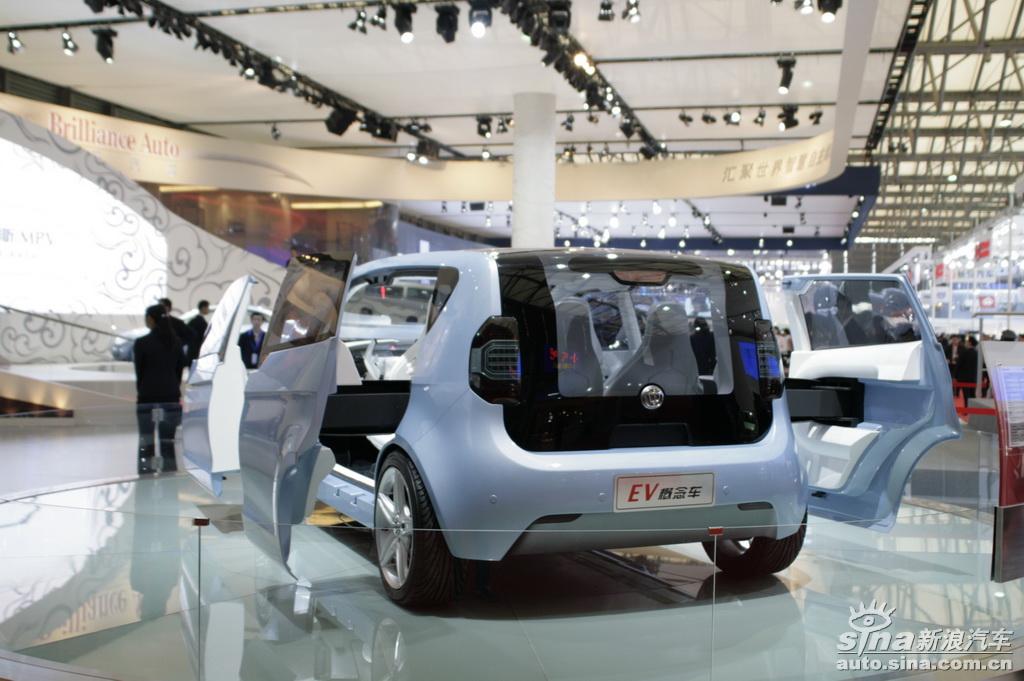 Chinese automaker Brilliance is showing off a new concept electric car that's currently on display at the Shanghai Motor Show. A large battery pack using lithium ion technology is reportedly capable of providing a range of around 93 miles (150 kilometers). The Chinese automaker claims that this battery can be hooked to a 220V charger that can use a "Quick Charge" feature to replenish the pack to about 80 percent in just 30 minutes.
Driving the rear wheels is a 47kW permanent magnet electric motor that puts out about 90 lb-ft of torque (120 NM) and is capable of revving to 10,000 RPM. But wait, there's more! A second electric motor powers the front wheels at speeds of around 25 miles per hour for city use. Top speed with both motors engaged is around 80 mph.
On the exterior front, this new EV concept may be vaguely inspired by the VW Space Up! concept from a few years back, but we don't think it's particularly egregious. Dual power-operated clamshell-ish doors allow access into an interior cabin that rather well done in clean-looking white materials. A fully electronic dash sits behind a yoke-style steering wheel.
Shanghai Autoshow 2009
The Brilliance EV might just be the most interesting concept car at Shanghai. It's all-electric and looks like a VW Up! concept.
This interesting Brilliance EV concept is proof that the Chinese don't like to be left behind. Despite having a very new car industry, that hasn't stopped Brilliance coming up with this all electric EV concept.
It has two electric motors which are powered by lithium-ion batteries. The EV can run on one motor at speeds up to 25mph, with a range of around 80 miles. But when the other motor kicks in, the EV can crack 80mph, although what that does for the range we don't know.
As for charging times, the EV takes around eight hours from a household plug, or just 30 minutes from a special fast charger.
Sadly, there are no plans to build the EV and that's a shame, we really wanted to have a play with those excellent doors.