SIPG takes a battering in Korea 0:5 loss
SHANGHAI SIPG's first year in the continental championships ended ingloriously after a 0-5 battering by K League champion Jeonbuk Hyundai Motors in Jeonju yesterday.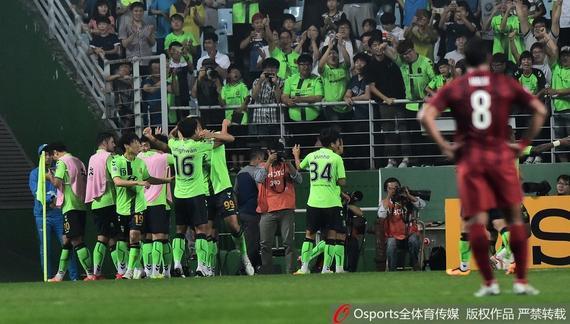 1. SIPG was missing key players Elkeson, Conca and Evrard for the AFC Champions League quarterfinals, but Brazilian striker Hulk played for 89 minutes.

2. Red card.
The two sides had played out a 0-0 draw in their first leg match in Shanghai. But the Koreans made their intentions clear in the second leg yesterday when they had the ball in the net after just five minutes.
Kim Shin-wook's header was ruled out for obstructing SIPG goalie Yan Junling. The auto giants continued to trouble the visiting defense for the next 40 minutes but were unable to grab the lead.
But it was a different story in the second half. Brazilian striker Leonardo's shot from the edge of the box beat three SIPG defenders to give Hyundai the lead six minutes after the break.
Shanghai was still recovering from the setback when Hyundai extended its advantage.
A quick attack by Leonardo and teammate Lee Jae-sung caught SIPG defense by surprise with Shanghai defender Shi Ke putting the ball into his own net.
Matters only got worse for Sven-Goran Eriksson's side when striker Lu Wenjun was shown a straight red card for raising his foot too high and hitting an opponent's face.
The floodgates opened with Leonardo getting a brace — this time from the spot — in the 81st minute.
Hyundai's Lee Dong-gook scored twice soon after to complete the rout.
"Our opponent gave a strong performance today," said SIPG midfielder Cai Huikang.
"Their strategy was clear — to challenge our defense with long balls. We were not fully prepared. And with one player down, our defense left more spaces for their attacks."
In his post-match press conference, SIPG manager Eriksson said the result was hard to accept. The Swede also said he was not happy with his players' performance in the second half.
He said the Koreans deserved to advance "after their performances in both the legs."
"Today's match taught us a lesson … now we will concentrate on the domestic league and come back to the Asian competition next year."
Eriksson however said he was still happy with his team, which had reached the quarterfinals in its first year of the AFC Champions League.
Hyundai's opponent in the semifinals will be decided after today's match when Shandong Luneng takes on FC Seoul in Jinan. The Chinese side trails 1-3 from the first leg.